find an overview of the program here
and a street map with the important locations here
Below is a list of some places to visit and some activities on the Xyclona-Weekend in Bern.
is your place / your activity missing? do you want to organize something during the Xyclona?  send us an e-mail to xyclona[at]immerda.ch and we'll update this list.
---
Die Übersicht über das ganze Xyclona Programm findet ihr hier
und eine Karte mit allen wichtigen Orten hier
Unten seht ihr eine Liste von Aktivitäten, die am Xyclona-Wochenende in Bern besucht werden können.
Fehlt etwas? Möchtest du etwas während der Xyclona organisieren? Schick uns eine E-Mail an xyclona[at]immerda.ch und wir werden diese Liste aktualisieren.
Ort und Zeit der täglichen Critical Mass findest du hier.
---
Alley Cat Bern
Sa, 1.10. 2022 – meet 20:00, start 21:00
more details on the flyer: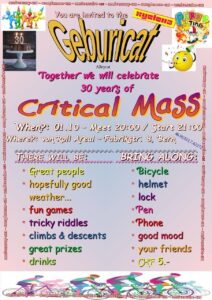 Bike Polo – open session
Sa, 1.10. 2022 12:00
Fabrikgarten Bern
*****
Das Einzige was ihr mitnehmen müsst ist ein Helm.
In unserer schönen Anlage im Fabrikgarten, gibt es viele gemütliche Plätze um den Tag zu verbringen und grillieren können wir auch.
*****
The only thing you need to bring is a helmet.
In our beautiful facility in the factory garden, there are many cozy places to spend the day and we can also have a barbecue.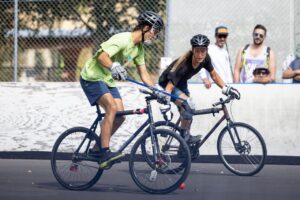 Radau
collaborative bike repair and tech support
Freiburgstrasse 121 – 3008 Bern
https://www.instagram.com/rad_au/
Antiracupfestival
Sa, 1.10.2022 20:00
Dachstock Bern
https://www.dachstock.ch/events/01-10-2022-antiracupfestival/